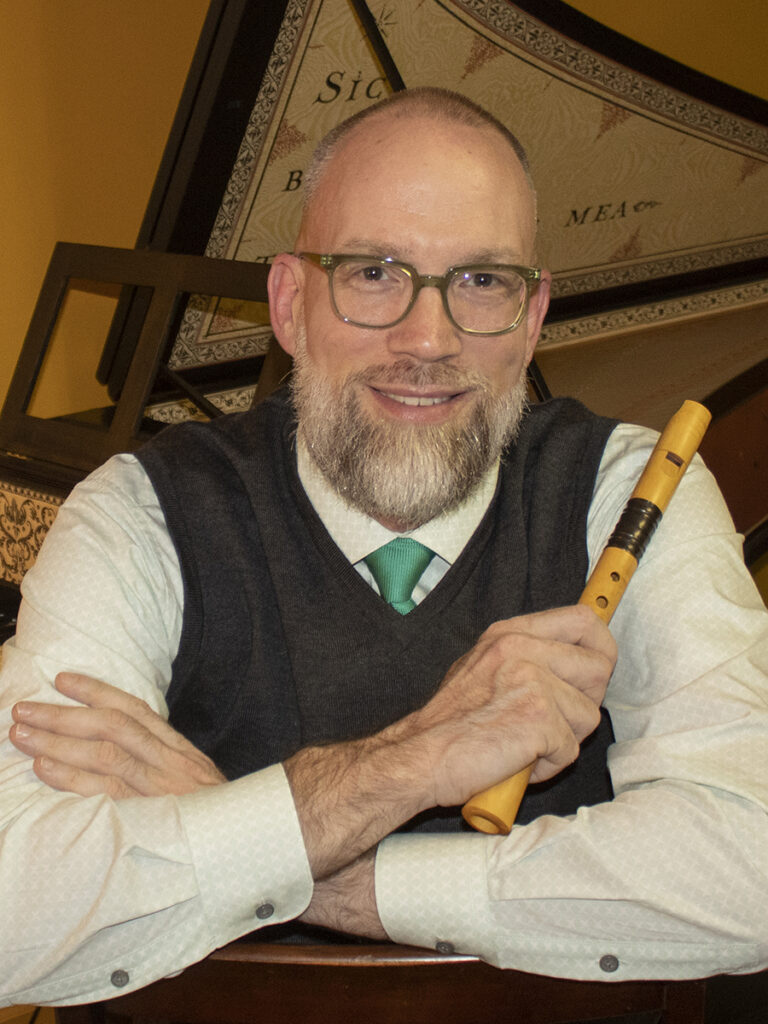 Jody Miller earned both the bachelor and master of music education degrees from the University of Southern Mississippi. Though his area of study was French horn, he spent much of his time playing recorder. Marion Verbruggen, Eva Legêne, Aldo Abreu, Steve Rosenberg, Tricia van Oers, and Frances Blaker are among his most influential teachers.
Miller has a large studio of private recorder students and teaches workshops throughout the country. Since 2011, he has been Director of the Mountain Collegium Early Music and Folk Music Workshop. He has also taught regularly at the Bloom Early Music Workshop and the Atlanta Midwinter Workshop. He has conducted or served on the faculty for numerous workshops throughout the country, including a recent appearance at the San Francisco Early Music Society Recorder Workshop.
For 30 years, Miller was a band director at McCleskey Middle School in Marietta, GA. In addition to maintaining an outstanding band program, including jazz band, percussion ensemble, and other extracurricular small groups, he formed the McCleskey Middle School Recorder Ensemble. This group twice commissioned new recorder ensemble music by composer Timothy Broege and performed three times at the Boston Early Music Festival.
Miller currently serves as Music Director of Lauda Musicam of Atlanta, a Renaissance band of more than 30 members. Lauda Musicam has hosted many guest artists, including Doug Lindsey (cornetto), Adrin Akins (countertenor), Shannon Gallier (organ), and John Maschinot (bagpipes and Irish flute). Lauda Musicam has also collaborated with the choirs at St. Bartholomew's Episcopal Church in Atlanta in a performance of Machaut's Messe de Nostre Dame.
Miller is actively involved in the early music community and serves as Vice President of the American Recorder Society Board of Directors. He is also on the boards of Lauda Musicam of Atlanta and Mountain Collegium. He has previously served as President of the Atlanta Early Music Alliance and as President and Music Director of the Atlanta Recorder Society.
Miller performs regularly with Amethyst Baroque Ensemble, which he co-directs with Dr. Alexandra Snyder Dunbar. Additionally, he is a member of Ritornello Baroque Ensemble, BlockPartie recorder quartet, and Eighty-Eight & Eight. He works closely with composer Timothy Broege and has given several premier performances of Broege's compositions, including a June 2001 performance of Broege's Two-Part Elegy for LaNoue Davenport at the Boston Early Music Festival. Miller is specifically interested in contemporary chamber music for recorder and collaborates regularly with other musicians in the Atlanta area. Miller has recorded for Mississippi Public Television and can also be heard with New Trinity Baroque on the Edition Lilac compact disc Charpentier: Mess de Minuit. Orchestral appearances have included the Atlanta Symphony Orchestra, the Atlanta Baroque Orchestra, New Trinity Baroque Orchestra, Cincinnati Opera, and the Victoria (TX) Bach Festival.
The beginning
Jody Miller grew up near Waynesboro, Mississippi, and his first experience with music was when he joined his junior high band as a trumpet player. In high school he switched his focus to French horn, but also discovered the recorder around the same time.
[The back story here is that Jody's first recorder was a pine-green plastic soprano that came in a box with the notes to "Row, Row, Row Your Boat," along with the fingerings for only those pitches. He then made up fingerings for all the other notes and played that way for the next three years. When he found a catalog for a large music supplier in his high school band director's office, Jody ordered a less-cheap recorder and a beginning method book from the vendor and then some modest autodidactic progress was made.]
Through the kindness and generosity of Richie and Elaine Henzler, proprietors of Courtly Music Unlimited, Jody got his first set of Aulos recorders on a layaway plan. When he got to college and found an early music ensemble, he started adding to his instrument collection and seeking instruction. His piano teacher, Dana Ragsdale, was actually a harpsichordist who taught him about basso continuo playing and much about Baroque performance practice. Dr. Ragsdale put Jody in contact with Steve Rosenberg, a recorder virtuoso who was then chair of the music department at the College of Charleston.
Groups and Organizations